ROZINA ISLAM IS BACK AT WORK
Staff Correspondent
Dhaka
Published: 08 Jul 2021, 17:05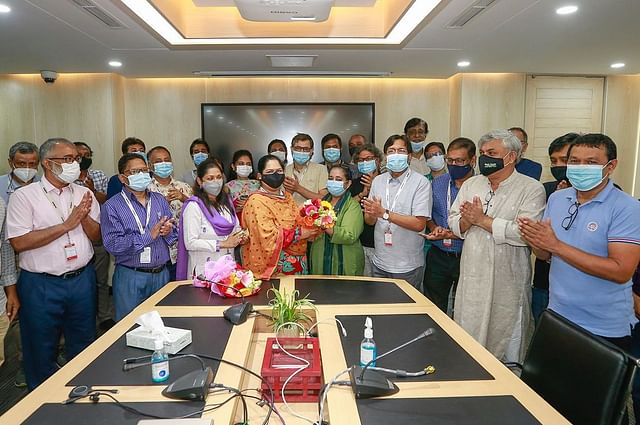 Colleagues greeting Rozina Islam with flowers at Prothom Alo conference room on 7 July, 2021Collected from Rozina Islam's Facebook handle
Prothom Alo senior correspondent Rozina Islam resumed work on Wednesday, 50 days after being granted bail by a Dhaka court.
Rozina was greeted with a bouquets by her colleagues when she reached Prothom Alo office at Kawran Bazar in the capital city. A reception was held at the Prothom Alo conference room to welcome her back.
Addressing the event, Prothom Alo managing editor Sajjad Sharif highlighted how people of different professions including journalists, protested against the detention and torture of Rozina. "They showed their solidarity and stood by the victim. Their response was amazing," he said.
Prothom Alo associate editor Anisul Hoque said it was a joyous moment to have Rozina back. She has brightened the image of Prothom Alo as well as of journalists through her work.
Prothom Alo feature editor Shumana Sharmin said readers would see more Prothom Alo investigative reports by Rozina. "Rozina will write even better reports for sure," she said.
Advertisement
Rozina Islam said, "I was treated unjustly. I had never experienced such mistreatment–being arrested arbitrarily for six hours–in my life. The Prothom Alo team stood by me and boosted my moral strength during the bad days. I am overwhelmed by the empathy that the journalist community, cultural-social-political organisations, readers, friends and well-wishers showed to me. I am grateful to them."
Rozina had been harassed while collecting information from the health ministry on 17 May. She was sent to jail after a 6-hour confinement and torture. Rozina was released from jail on 23 May.