3 JOURNALISTS OF PROTHOM ALO RECEIVE NAGAD-DRU REPORTING AWARD
Staff Correspondent
Dhaka
Published: 26 Oct 2021, 23:08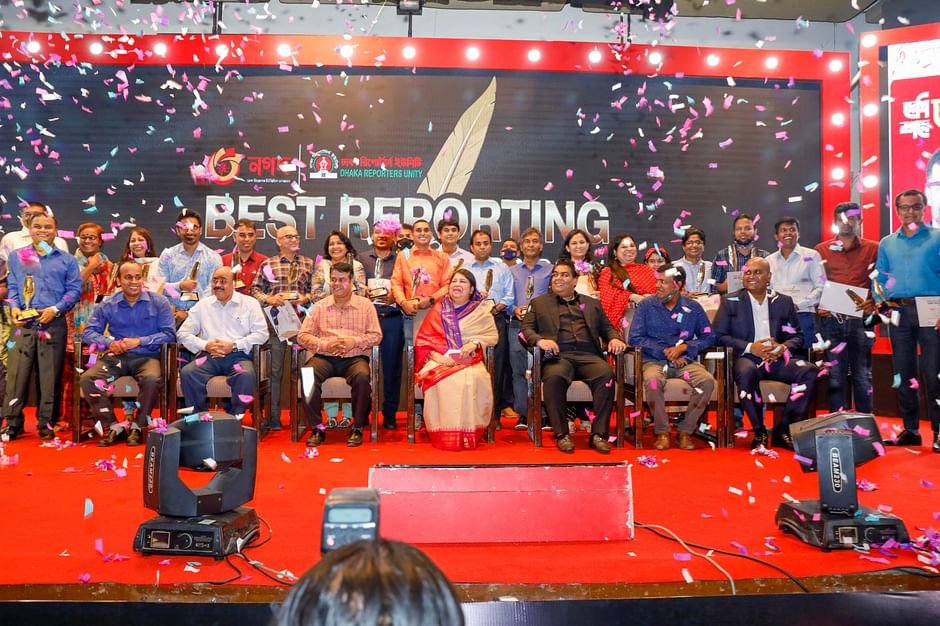 Receipts of the Nagad-Dhaka Reporters Unity Best Reporting Award-2021 pose for picture with the speaker of parliament Shirin Sharmin Chaudhury at Krishibid Institution Bangladesh in the capital on Tuesday.Sabina Yesmin
A total of 22 journalists including three journalists of Prothom Alo received Nagad-Dhaka Reporters Unity Best Reporting Award-2021 on Tuesday.
Speaker of the Jatiya Sangsad, Shirin Sharmin Chaudhury, handed over the awards to the journalists during an event held at Krishibid Institution Bangladesh in the capital. Each of the award recipients was given a certificate, a crest and Tk 75,000 in prize money.
Prothom Alo's Rozina Islam received the award in health category, Naznin Akhter in women, children and human rights and Asaduzzaman in information and communication technology category.
The other award recipients (print and online category) are Rashidul Hasan of The Daily Star; Abu Saleh Rony of Samakal; Abbas Uddin Nayan and Jebun Nesa Alo of The Business Standard; Md Kabir Hossain of Dainik Amader Shomoy; Md Jobair Hossain of Dhaka Post; Md Shahedul Islam of Bangla Tribune; SAM Hamid-uz-Zaman of Jugantor; Ziadul Islam of Kaler Kantho and Rafiqul Islam Sabuz of Somoyer Alo.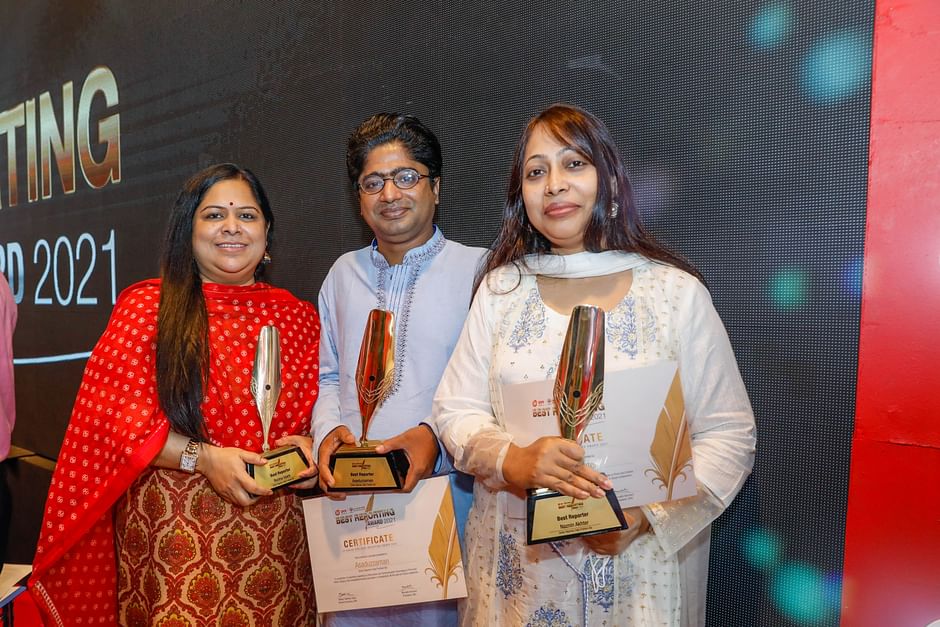 Rozina Islam Asaduzzaman and Naznin Akhter and of Prothom Alo pose for a photo after receiving the Nagad-Dhaka Reporters Unity Best Reporting Award 2021 at Krishibid Institute in Farmgate of Dhaka on 26 October 2021.Sabina Yasmin
In the television and radio category Sushanta Sinha and Abu Saleh Md Parvez Sazzad of Jamuna Television; Kaberi Maitraya and Md Adnan Khan of Ekattor Television; Md Mazharul Islam and Kawser Soheli of Maasranga Television; Shahnaz Sharmeen of Nagorik TV; Sadman Sakib of CHANNEL24; and Shafiq Shaheen of NTV were awarded.
UNB adds: Shirin Sharmin Chaudhury underscored the need for sensible journalism maintaining professional ethics to tackle the misinformation and propaganda of social media.
"Misinformation, propaganda and negative and fabricated news are now easily spreading through social media. The (mainstream) media can tackle this challenge by disseminating authentic information through sensible journalism upholding ethics," she said.
Shirin Sharmin Chaudhury said many new issues are emerging amid the social media expansion. "Journalists will have to think about this new challenge as the media can play a significant role in establishing justice through objective and responsible journalism."
She also said news should be presented with accurate and reliable information for creating informed citizens. "The more the country gets informed citizens the stronger democracy we'll have."
Stating that the media can guide the nation to follow the right path, the Speaker said journalists should provide people with objective information maintaining media ethics to help them make the right decision.
"We'll have to give priority to public interests. The media will have to realise that public trust is the most important component for going forward. The more the media gains the public trust, the more it will move forward," she observed.
She thanked journalists for their courageous reporting even during the bad time of the corona pandemic.
Speaking at the programme, Nagad's managing director Tanvir A Mishuk said a good report can bring many important aspects of the country and society to light. "In fact, good reports work as a weapon to change society."
Dhaka Reproters' Unity president Mursalin Nomani and general secretary Moshiur Rahman Khan also spoke at the programme.
26-October-2021
Rozina Islam
National
Source : Prothom Alo